Happy December!
PVBC has lots of fun stuff going on this month and we hope you will join us!
Sunday Dec. 18 – PVBC's 2nd annual Holiday Social! Join us at Claremont Craft Ales, in Claremont, CA for beers, bikes, and mingling. This is a great opportunity to connect with local area cycling clubs and we would love it if you came! RSVP on our Facebook page.

THIS WEEK! LACBC is hosting their Open House! Join us for tacos, Angel City Brewing, music, and giveaways, and learn about the history of biking in LA.
634 S. Spring St, First Floor, DTLA
Wednesday, Dec. 7, 6pm
RSVP @ la-bike.org/openhouse16
Saturday Dec. 10 – Pomona Christmas Parade
PVBC will be joining DayOne and BikeSGV to roll through the streets of Pomona during the nighttime parade. Decorate your bike with lights and come represent! We will meet at the dA Center for the Arts for a pre-party and then head to the parade together. More information can be found on our Facebook page.
DECEMBER 19 — City of La Verne Planning Commission Meeting. CALLING ALL CYCLISTS in Pomona Valley. La Verne's current cycling improvement plan doesn't include Bonita, and we think it oughta.
From Cycling Around La Verne:
La Verne's current improvement plans
La Verne has $1.9m available to improve cycling infrastructure over the next several years. At the Active Transportation Workshop and Planning Commission a graphic was briefly shown which outlines how the city plans to spend the money.
It is highly likely this will again be presented to city council on Dec 19th and local cyclists are HIGHLY encouraged to attend. Also, if there is input you would like to provide you can provide it to the staff assigned who have been developing the recommendation around Active Transportation (and they have been very easy to work with and open to input).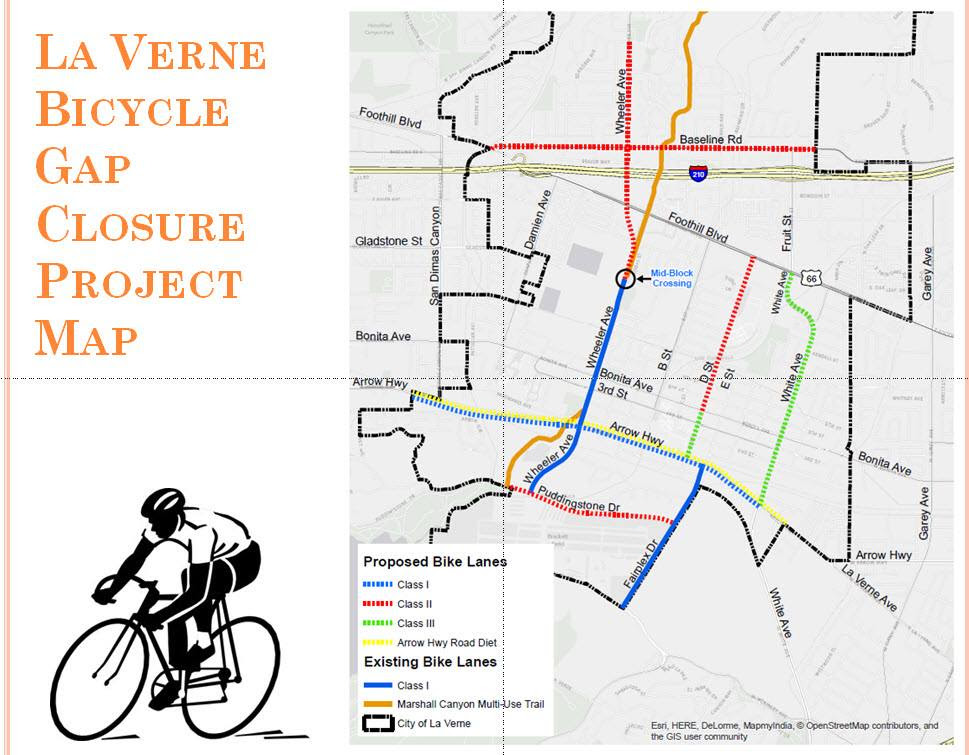 Hope to see you this month! email us for more information at pvalleybikes@gmail.com, or visit our Facebook page: Facebook.com/PomonaValleyBikes